Muder Rock
Treasure Hoard
ジョルカエフ多鬼島
Romaji of Song
-
English Translation
-
Nihongo of Genre
マダーロック
Romaji of Artist
Djorkaeff Takajima
Vocal
Yodogawa Djorkaeff, Kuromuru
Lyrics
Djorkaeff Takijima
Other Instruments
Djorkaeff Takijima (Composition & Arrangement)
BPM
120
Status
Event Song
Length
1:58
Character
Dr. FLASK
First Appearance
pop'n music 17 THE MOVIE
Other Appearance(s)
None.
この世界にはエジソンの力など及ばぬ場所もあるのです
呪われた館の深い闇の中で本当の絶望を知るがいい

これが噂の財宝の眠る館か
それにしても暗いところだな~
懐中デントを
おっと予備を
それではマッチで
構うものかわたしの目はモモンガ並みだからな
そんなことはどうでもいい お宝はどこにある

欲に塗れた愚かな魂は見るも哀れなり

お宝の臭いがプンプンするぞ
(うわ~)
怖くなんかないぞ
わたしに怖いものなどあるものかぅわ~ぅあ~

首根っこをつかむのはやめたまえ~
無駄な足掻きはよしなさい, もう何処にも逃げ道なんてありはしないのだから
ニュートンの法則に逆らっているではないか~ぅぁあ~
欲に眩んでこの館に足を踏み入れた己の性を呪うがいい

kono sekai ni wa EDISON no chikara nado oyoba nu basho mo aru no desu
norowareta yakata no fukai yami no naka de hontou no zetsubou wo shiru ga ii

kore ga uwasa no zaihou no nemuru yakata ka
sorenishitemo kurai tokoro da na~
kaichuu dento wo
otto yobi wo
soredewa macchi de
kamau mono ka watashi no me wa momonga nami dakara na
sonna koto wa doo demo ii otakara wa doko ni aru

yoku ni mamireta oroka na tamashii wa miru mo aware nari

otakara no nioi ga punpun suru zo
(uwa~)
kowaku nanka nai zo
watashi ni kowai mono nado aru mono ka uwa~ ua~

kubinekko wo tsukamu no wa yameta mae~
muda na agaki wa yoshi nasai, mou doko ni mo nigemichi nante ari wa shinai no dakara
NEWTON no housoku ni sakaratte iru de wa nai ka~ uaa~
yoku ni kuran de kono yakata ni ashi wo fumiire ta onore no sei wo norou ga ii

English Translation
Edit
The translation was founded by YouTube user Shnuboris Tenmillion.
In this world there's a place you cannot reach with a power like Edison's.
In the deep darkness of the cursed mansion, it's good to know the truth of despair.

There's a rumor in this sleepy mansion of valuable treasure.
Even then, it's a dreadful place~
Put a dent in your pocket
Prepare your husband!
Now then, it's a match!
Who cares if my eyes are like that of a squirrel?
Such things don't even matter. Now where is the great treasure?

Foolish soul, you'll only get coated in greed, see, it's pathetic.

The stench of the treasure is awful!
(Waaah~)
It's not something to fear.
Don't fear me either~guagh!~

Quit grasping by the scruff of the neck!
Stop that useless struggling, you won't escape anytime soon.
That's questioning NEWTON's law~guagh!~
This mansion is blinded by greed, he set foot. It's good, the curse upon himself...

Song Connections/Remixes
Edit
None.
Treasure Hoard is Osamu Migitera's last use to date of the Yodogawa Djorkaeff alias in BEMANI.
Music Comment
Edit
There it was, this is the movie version of inside the haunted house treasure hunting. Good luck looking for that treasure.
Difficulty & Notecounts
Edit
Game
Standard
Battle
5
N
H
EX
N
H
Notecounts
396
397
970
1225
346
590
Pop'n Music 17 THE MOVIE
16
22
32
39
14
23
Sengoku Retsuden→fantasia
16
22
↑33
39
14
23
Sunny Park→Present
-
28
39
45
14
23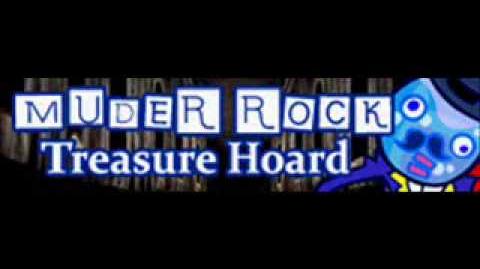 Ad blocker interference detected!
Wikia is a free-to-use site that makes money from advertising. We have a modified experience for viewers using ad blockers

Wikia is not accessible if you've made further modifications. Remove the custom ad blocker rule(s) and the page will load as expected.