Elegoth
the keel
Akino
Romaji of Song
-
English Translation
-
Nihongo of Genre
エレゴス
Romaji of Artist
-
Vocal
Akino
Lyrics
Toshihino Mizuno
Other Instruments
Toshihino Mizuno
BPM
133
Status
Default
Length
1:53
Character
Roki
First Appearance
pop'n music 11
Other Appearance(s)
REFLEC BEAT groovin'!! Upper
when you have a lighter, light up for the fighter 
kick before the red bubble
listen to the liar, "goddess kill the tyrant"
40th morning rite we run to there

Fly and life your lies belongs to
night and die you made a holy world

chill you by the nightmare, six sense of a flower
takes me to the right bubble
we can find a fire made in dinosaur
relax your finger e-mails will be there

fly and life your lies belongs to
eyes of pride the goddess find you
night and die you made a holy world
*a wicked witches' sabbath
mummy of lizards

* repeat

*the final message for blue sea
release me from the keel

* repeatx2

Long Version
Edit
when you have a lighter, light up for the fighter 
kick before the red bubble
listen to the liar, "goddess kill the tyrant"
40th morning rite we run to there

Fly and life your lies belongs to
night and die you made a holy world

chill you by the nightmare, six sense of a flower 
takes me to the right bubble
we can find a fire made in dinosaur
relax your finger e-mails will be there

fly and life your lies belongs to
eyes of pride the goddess find you
night and die you made a holy world
*a wicked witches' sabbath
mummy of lizards

* repeat

the final message for blue sea
release me from the keel

a wicked witches' sabbath
mummy of lizards

terrify the liar, Shake your hair of fire
Say ya la li, lay ya la c
We can find a bible made in dinosaur
Debag the winner, evils will be then

*fly and lift your lies belongs to
eyes of pride the goddess find you

* repeatX4

night and die you made a holy world
a wicked witches' sabbath
mummy of lizards

the final message for blue sea
release me from the keel

Song Connections/Remixes
Edit
the keel marks vocalist Akino's first appearance in pop'n music. She had earlier appeared in one seek from beatmania THE FINAL and Cradle from beatmania IIDX 9th style, both composed by Osamu Migitera.

the keel marks Akino's first song in BEMANI not composed by Osamu Migitera.

the keel also marks the first appearance of composer Toshihiro Mizuno in BEMANI.
According to wac, Des-ROW was happy with the keel when he heard it.
the keel is the only Akino song to not receive its own EX Chart.
Difficulty & Notecounts
Edit
Game
Standard
Battle
5
N
H
EX
N
H
Notecounts
192
317
689
-
168
522
Pop'n Music 11
7
15
31
-
8
24
Sunny Park→Present
-
21
37
-
8
24
Pop'n Music 11 CS
7
15
31
-
8
24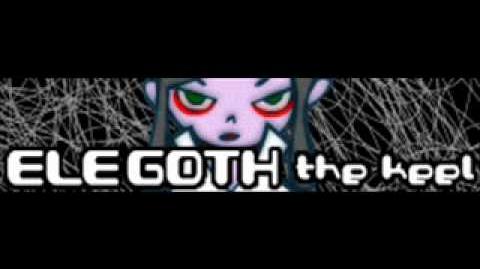 Ad blocker interference detected!
Wikia is a free-to-use site that makes money from advertising. We have a modified experience for viewers using ad blockers

Wikia is not accessible if you've made further modifications. Remove the custom ad blocker rule(s) and the page will load as expected.