Hyper Japanesque 3
天上の星 ~黎明記~
TЁЯRA
Romaji of Song
Tenjou no Hoshi ~Reimeiki~
English Translation
Stars in the Sky ~The Story of Dawn~
Nihongo of Genre
ハイパージャパネスク3
Romaji of Artist
-
Vocal
jun
Lyrics
jun
Other Instruments
NAOKI MAEDA
BPM
85-170 (170?)
Status
Default
Length
1:47
Character
KIKYO
First Appearance
pop'n music 18 せんごく列伝
Other Appearance(s)
DanceDanceRevolution X3 vs. 2nd MIX
闇夜の彼方 灼熱の海
朽ち堕ちていく 影の虚しさよ
光なきこの 夢はやがて
終焉を迎える 君の言葉を
思い出す

燃える大地を 切り裂くように
風纏い 駆け抜ける
その背中に
浮かび上がるは 煌く
さだめの星
鮮やかに 今 光放つ

百花繚乱 色とりどりに
さき競い 散り急ぐ
この時代を
強く生きよと願った
君を想う
ゆっくりと 明ける空見上げた

Yamiyo no kanata shakunetsu no umi
Kuchi ochite iku kage no munashi-sa yo
Hikari naki kono yume wa yagate
Shuuen wo mukaeru kimi no kotoba wo
Omoidasu

Moeru daichi wo kirisaku you ni
Kaze matoi kakenukeru
Sono senaka ni
Ukabiagaru waraku
Sadame no hoshi
Azayaka ni Imamitsu hanatsu

Hyakkaryouran irotoridori ni
Saki kisoi chiriisogu
Kono jidai wo
Tsuyoku ikiyo to negatta
Kimi wo omou
Yukkuri to akeru sora miageta

English Translation
Edit
Beyond the dark night of the burning sea
Shadows fall into decay of emptiness
Eventually this dream without the light
Demises your words
Remember

To cut thorugh the burning earth
Run through the wearing wind
On its back
Emerges a glittering
Star of destiny
Now in the bright light off

Many colorful flowers were blooming in perfusion
Previously competed with a rushing splash
This period
I wanted to live strong
Thinking of you,
I slowly looked up at the dawn sky

Song Connections/Remixes
Edit
天上の星 ~黎明記~ is the third song in the HYPER JAPANESQUE series of songs. The other songs in the series include:
In pop'n music, 天上の星 ~黎明記~'s BPM is shown in-game as 170?. The actual BPM changes are 170→85→170.
天上の星 ~黎明記~ is the only HYPER JAPANESQUE song that doesn't have a long version.
Difficulty & Notecounts
Edit
Game
Standard
Battle
5
N
H
EX
N
H
Notecounts
281
394
909
1111
297
516
Sengoku Retsuden→fantasia
14
20
34
39
13
18
Sunny Park→Present
-
26
40
45
13
18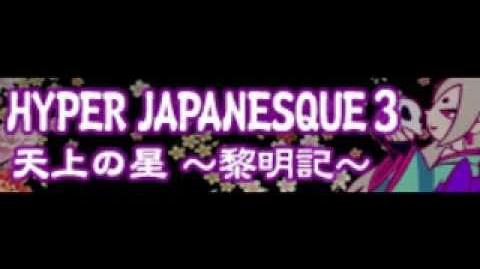 Ad blocker interference detected!
Wikia is a free-to-use site that makes money from advertising. We have a modified experience for viewers using ad blockers

Wikia is not accessible if you've made further modifications. Remove the custom ad blocker rule(s) and the page will load as expected.