Help Wanted!

Sweet Illusion lacks translation for the lyrics, or the lyrics were not yet delivered, since it was released.

Sweet Pop
Sweet Illusion
vivi (from iyiyim)
Romaji of Song
-
English Translation
-
Nihongo of Genre
スウィートポップ
Romaji of Artist
-
Vocal
vivi (from iyiyim)
Lyrics
Yoshiko Koezuka
Other Instruments
Yoshiko Koezuka (Everything), Hirofumi Sasaki (Alto Recorder), Kozo Nakamura (Acoustic Guitar)
BPM
114 (GF/Dm), 98-114 (pop'n music)
Status
ee'MALL Unlock
Length
1:33 (PnM), 4:20 (GF/dm)
Character
Candy (Heartful 2P)
First Appearance
GUITARFREAKS 8th MIX/drummania 7th MIX
Other Appearance(s)
ee'MALL 2nd avenue, GITADORA OverDrive, GuitarFreaks & DrumMania MASTERPIECE SILVER, pop'n music 10, pop'n music 12 いろは CS, pop'n music 15 ADVENTURE
 空から降ってくる ヌードルみたいな雨に
 ラップでくるんで"チン"した現実が流されてゆく
 それは甘い甘い甘い甘いキャンディー ひと粒の涙
 いつも淡い淡い淡い淡い恋に 揺れてたいんだもん
 消えないでイリュージョン
 ずっと醒めないでイリュージョン

sora kara futte kuru
noodle mitaina ame ni
wrap de kurunde "chin" shita genjitsu ga nagasa rete yuku
sore wa amai amai amai amai candy
hitotsubu no namida
itsumo awai awai awai awai koi ni
yure tetainda mon
kienaide illusion
zutto samenaide illusion

English Translation
Edit
The rain comes down
From the sky like a noodle
A "Chin" is wrapped with wrap, reality was going to shed
This is a sweet sweet sweet sweet candy, a person grain's tears
Always in the pale pale pale pale love, I want to be shaking
Illusion in indelible
In the far wake Illusion

Long Version
Edit
空から降ってくる ヌードルみたいな雨に
ラップでくるんで"チン"した現実が流されてゆく
それは甘い甘い甘い甘いキャンディー ひと粒の涙
いつも淡い淡い淡い淡い恋に 揺れてたいんだもん
消えないでイリュージョン

やっとの思いで 手に入れた現実
温めすぎたアタシのスープでヤケドしちゃったみたい
ワガママばっかで嫌われちゃったアタシ
上手くいかない 逃げ出したい そうリキュールみたいに
それは熱い熱い熱い熱いキッスで 目覚めた朝の夢
ふたり青い青い青い青い海を 泳いでたんだもん
醒めないでイリュージョン

...イツモコイシテイタイ
...イツモユメミテイタイ

アタシ紅い紅い紅い紅いチェリー 悲劇のヒロインだから
ひとり長い長い長い長い夜を 越えられないんだもん
それは甘い甘い甘い甘い甘い甘い甘いキャンディー
いつも淡い淡い淡い淡い恋に 揺れてたいんだもん
消えないでイリュージョン
ずっと醒めないでイリュージョン

Song Connections/Remixes
Edit
The pop'n music series use a short version of Sweet Illusion. This short version can't be found on any soundtrack.
Sweet Illusion marks the first appearance of vivi in the GuitarFreaks & DrumMania series.
Sweet Illusion is the only Bonus Track from GuitarFreaks & DrumMania to be used in ee'MALL.
According to Yoshihiko Koezuka, the girl in the video's name is Rose.
Sweet Illusion shares Candy Blue's background.
Before pop'n music 15 ADVENTURE, the character for Sweet Illusion was Candy, but in her mysterious and special palette, and the songwheel genre was Sweet Illusion.
Sweet Illusion was one of the Long Version revivals announced for GITADORA OverDrive at the JAEPO2014 event. It is available as a default song in GITADORA OverDrive.
Sweet Illusion's video in GITADORA OverDrive is the original video tiled three times across the whole screen
Difficulty & Notecounts
Edit
Game
Standard
Battle
5
N
H
EX
N
H
Notecounts
199
305
564
-
235
380
Pop'n Music 10→CARNIVAL (via ee'MALL)
9
17
28
-
11
19
ADVENTURE→fantasia
9
17
28
-
11
19
Sunny Park→Present
-
23
34
-
11
19
Iroha CS
9
17
28
-
11
19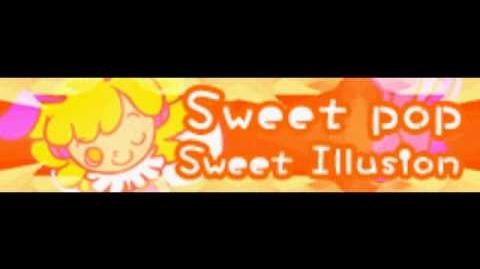 Ad blocker interference detected!
Wikia is a free-to-use site that makes money from advertising. We have a modified experience for viewers using ad blockers

Wikia is not accessible if you've made further modifications. Remove the custom ad blocker rule(s) and the page will load as expected.