A.I. Kids
さんぽのうた
V.C.O.+ALT
Romaji of Song
Sanpo no uta
English Translation
The walking song
Nihongo of Genre
-
Romaji of Artist
-
Vocal
ALT
Lyrics
Seiya Murai
Other Instruments
Seiya Murai (Composition & Arrangement)
BPM
135
Status
ee'MALL Unlock
Length
1:52
Character
ALT (A.I. Techno 2P)
First Appearance
ee'MALL 2nd avenue
Other Appearance(s)
pop'n music 10
雨上がりの日
ひとつ深呼吸
長ぐつをはいて
さぁ!トコトコおさんぽ

だけどここから先は
まだ知らない場所
少し不安だけどでも
たぶんダイジョウブ

水たまり道歩けば
きっとワクワクすることが
だれかに出会ったなら
元気に「コンニチハ」
ほら笑った!

勇気を出して
ちいさな冒険
くつ音のリズム
LaLa 合わせてうたう
さんぽのうた

どこかでゴハンのかおり
夕焼けは影をのばすよ
一番星見えた
オナカもうたうから
さぁ帰ろう

こんなに遠く
ひとりで来たこと
怒られちゃうかな?
でもパパとママにはナイショだよ
また来るよ うたうたいながら

ame agari no hi
hitotsu shinkokyuu
naka gutsu wo haite
saa! toko toko osanpo

dakedo, koko kara saki wa
mada shiranai basho
sukoshi fuan dakedo
demo, tabun daijoubu

mizu tamari michi arukeba
kitto waku waku suru koto ga
dare ka ni deatta nara
genki ni "konnichiwa"
hora waratta!

yuuki wo dashite
chiisa na bouken
kutsu oto no rhythm
La La awasete utau
sanpo no uta

doko ka de gohan no kaori
yuuyake wa kage wo nobosu yo
ichiban hoshi mieta
onaka mou tau kara
saa kaerou

konna ni tooku
hitori de kita koto
ikarare chau kana?
demo papa to mama ni wa naisho dayo
mata kiru yo uta utai nagara

English Translation
Edit
The translation was found by RemyWiki user AngelA.I.Girl.
After the day's rain has passed
I take one big, deep breath
Wearing my favorite pair of boots
Now! I'm setting off on a walk

But as my adventure goes on
I still don't know where I am now
I'm getting quite anxious
But maybe I'm okay

I jump in puddles on the road
And I would sure be excited
If I'd happen to meet a new friend
Cheerfully, I would say "Hello!"
And then I'd laugh

I will show lots of courage 
On my little adventure
I feel the rhythm in my shoes
LaLa won't you all just sing along
To my walking song?

I smell delicious rice somewhere
As the sun goes down in the sky
Is that the first star of the night?
My tummy's rumbling,
I should go home now

I sure walked quite far away
And not just that, I am alone!
Should I have not done all this?
But my adventure is a secret from my mom and dad
As I sing my walking song, I will head back home!

Song Connections/Remixes
Edit
A long version of さんぽのうた appears on the 0/1 ANGEL album.
さんぽのうた shares すいみん不足's background.
さんぽのうた is the first song featuring ALT on the vocals that didn't originate on the pop'n music series.
Difficulty & Notecounts
Edit
Game
Standard
Battle
PSP-Exclusive
5
N
H
EX
N
H
5H
7
7H
Notecounts
205
294
491
666
271
294
?
?
491
Pop'n Music 10→CARNIVAL (via ee'MALL)
10
16
22
27
13
14
-
-
-
ADVENTURE→THE MOVIE
10
16
22
27
13
14
-
-
-
Sengoku Retsuden→fantasia
10
16
22
↓26
13
14
-
-
-
Sunny Park→Present
-
22
18
32
13
14
-
-
-
portable
9
16
22
27
13
-
14
15
21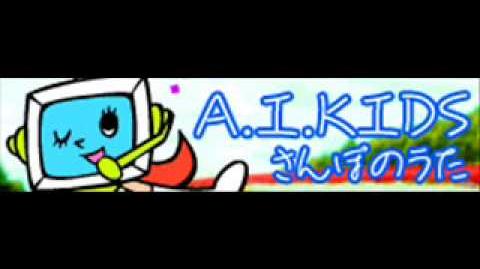 Ad blocker interference detected!
Wikia is a free-to-use site that makes money from advertising. We have a modified experience for viewers using ad blockers

Wikia is not accessible if you've made further modifications. Remove the custom ad blocker rule(s) and the page will load as expected.