Pop'n Music Wiki is a communication and informational wiki that is based on the Pop'n Music seires. It is highly referred as the second wiki to be connected by BEMANI Wiki.
What is Pop'n Music?
Edit
Pop'n Music, mainly capitalized as pop'n music (abbreviated as PM or PnM) is one of the popular music/rhythm video games in Konami and was developed by Bemani. The video game was based as a childish design to Beatmania. Pop'n Music was given for kids to play from Japan.
Back in September 1998, Pop'n Music was generated in Osaka, Japan. The first modern characters and some of the American songs can be used such as Mimi, Nyami, The King and Mary as your playable characters. Next, Pop'n Music Animelo is released in Game Boy which entirely has anime songs in 8-Bit. Pop'n Stage was generated, it is the same as DDR, but has different designs in the pad. Mickey Tunes was developed by using old Disney characters for Pop'n Music.
Controller
Edit
The Pop'n Music controller has colorful buttons: red, blue, green, yellow and white.
Second Generation
Edit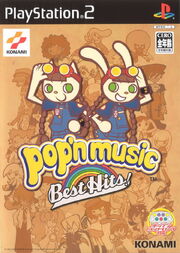 Eventually, Pop'n Music kept on evolving to PS to PS2, which reccomended new characters, new songs, new designs and options. Pop'n Music Best Hits are released with all returning songs, but added new characters such as Sumire. Pop'n Music added Expert Mode (a course mode) with four songs in each course.
Third Generation
Edit
In the third generation, Pop'n Music added Norma Select, Omake, Challenge Mode, Chou Challenge Mode, Battle, and NET Mode to experienced to be new. It faced levels such as Level 1 through 43. Some of the songs are returning in each Pop'n Music game. New treasures are found in NET Mode.
Commonly, Pop'n Music stopped evolving on PS2, but sent on arcades only since 2007-present time. Pop'n Music transformed newly, but removed some of the older or TV/Anime songs in the first through third generation. Pop'n Music gave each and every mobile games or computer games. At last, Pop'n Music was resembled to Paseli in Pop'n Music 19 Tune Street and Pop'n Music 20 Fantasia. In 2012, Pop'n Music Sunny Park was released, but something common was changing: The level systems are changed to 1-50 and the categories are removed by new folders.
Chances in the U.S.
Edit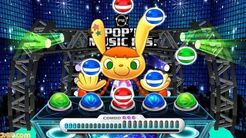 Pop'n Music is only located in Japan; despite of this, several of Pop'n Music arcade cabinets were shipped in mostly Korea, a few countries of South America and Europe, and particulary, a few states in America, like Nevada and California. BEMANI and Konami were making up a chance to release a Pop'n Music console game in America. They ended up designing a game based off of Pop'n Music in the name of
Beat'n Groovy
, which receive negative and "melancholic" reviews, because of slow graphics and poor details of background designs.
Pop'n Music gave its second chance to hit to the US. Eventualy, Pop'n Music Wii is born in Japan, Europe, and North America. It turns 13 Pop'n Music characters into Mii forms. Instead of sending 90% of TV/Anime songs (which probably causes some licensing issues in Japan), it sends random North American songs (ex. Bad Day, My Life Would Suck Without You, Pump Up the Volume, etc.), thus the opening theme and special song is different.
Similar to Beat'n Groovy, Pop'n Music Wii received negative reviews, prior to American gamers' complaints of upsetting gameplay style, consisting of five buttons instead of the original 9 buttons; and character designs with beanie-shaped bodies and absent limbs. According to Metacritic, there are three critics giving Pop'n Music Wii negative reviews, stating it that it was a "frustrating experience".
Popularity
Edit
Because Japan have a sheer amount of amazing music/rhythm gamers, the company held Konami Arcade Championship events for Pop'n Music, along with other BEMANI and Konami arcade games, additionally NET Mode events.
Similar to Jubeat, Sound Voltex, Reflec Beat, and Guitar Hero (Arcade), Pop'n Music has no movie at all times.
Pop'n Music is a bit similar to Beatmania, but with cartoony graphics.
Allusions
Edit
The anime Watamote! includes a parody of the Pop'n Music arcade cabinet in one episode/chapter.
Himouto! Umaru-chan includes the same parodic gameplay.
Ad blocker interference detected!
Wikia is a free-to-use site that makes money from advertising. We have a modified experience for viewers using ad blockers

Wikia is not accessible if you've made further modifications. Remove the custom ad blocker rule(s) and the page will load as expected.