Help Wanted!

Oyashiro no musume lacks translation for the lyrics, or the lyrics were not yet delivered, since it was released.

Moe Pop
オヤシロのムスメ
後藤沙緒里
Romaji of Song
Oyashiro no musume
English Translation
Oyashiro's daughter
Nihongo of Genre
萌えポップ
Romaji of Artist
Gotou Saori
Vocal
Saori Goto
Lyrics
Kimio Namekawa
Other Instruments
Kimio Namekawa
BPM
189
Status
CS Song
Length
1:58
Character
みここ
First Appearance
pop'n music 12 いろは CS
Other Appearance(s)
pop'n music 18 せんごく列伝
 賽銭箱は 空っぽだけど
 お願い事は いっぱい来るの

 御祓いなんて 慣れっこだけど
 私なんかで ご利益あるの?

 商売繁盛、家内安全
 恋愛成就、南無阿弥陀仏!?

 お願いするのは勝手だけれど
 神様だってお忙しいのよ
 出来れば自分で夢叶えてよね
 そしたら私も楽だから

 お礼をするなら 御供物でどうぞ
 神様だっておなかは空くのよ
 どうせだったら お菓子が嬉しい
 「かりんとう」が第一希望よ

 イチゴ大福は太るから

 Saisen bako wa karappodakedo
 Onegai goto wa ippai kuru no

 Oharai nante narekkodakedo 
  watashi nanka de goriyaku aru no?

 Shoubai hanjou, kanai anzen
 Renai jouju, namuamidabutsu!?

 Onegai suru no wa kattedakeredo
 Kamisama datte wo isogashii no yo
 Dekireba jibun de yume kanaete yo ne
 Soshitara watashi mo rakudakara

 Orei wo surunara gokumotsu de douzo
 Kamisama datte onaka wa aku no yo
 Dousedattara okashi ga ureshii
 "Karintou" ga daiichikibou yo

 Ichigo daifuku wa futorukara

English Translation
Edit
Song Connections / Remixes
Edit
A long version of オヤシロのムスメ, titled オヤシロのムスメ -saorin ver.-, can be found on Saori Goto's album オリヒメ.
オヤシロのムスメ is not included on the pop'n music SUPER BEST BOX collection, due to being a licensed song.
Difficulty & Notecounts
Edit
Game
Standard
Battle
5
N
H
EX
N
H
Notecounts
261
294
450
622
303
392
Iroha CS
12
15
23
28
13
15
Sengoku Retsuden→fantasia
12
14
↑24
28
13
15
Sunny Park→Present
-
20
30
↓33
13
15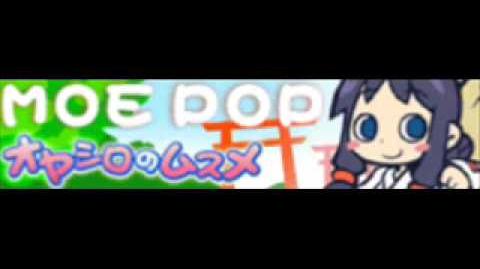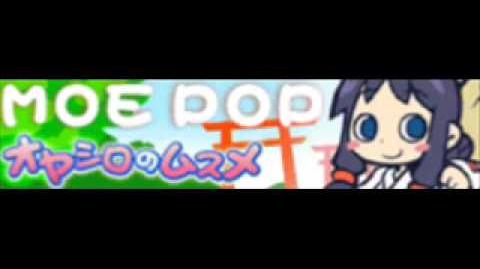 Ad blocker interference detected!
Wikia is a free-to-use site that makes money from advertising. We have a modified experience for viewers using ad blockers

Wikia is not accessible if you've made further modifications. Remove the custom ad blocker rule(s) and the page will load as expected.