French Pop
MOBO★MOGA
ORANGE LOUNGE (IIDX, DDR, DMX)/♪♪♪♪♪ (pop'n music)
Romaji of Song
-
English Translation
-
Nihongo of Genre
フレンチポップ
Romaji of Artist
-
Vocal
Shizue
Lyrics
Shizue
Other Instruments
Tomosuke Funaki (Composition & Arrangement)
BPM
172
Status
Sugoroku de 8 Unlock, Deleted by THE MOVIE
Length
1:23
Character
Tart&Toffee
First Appearance
Dance Maniax
Other Appearance(s)
beatmania IIDX 5th style, DanceDanceRevolution EXTREME, pop'n music 8
Par la fenêtre de ta Fiat 500
tu me regardais et je t'ai vu
tes goûts semblaient parfait

On s'est compris tout de suite à fond
et des rendez-vous de la nuit
parfois on s'attend sous la pluie
et tout, c'était miracle

La musique !
les yeux dans les yeux
nos histoires romantiques
on commence tous les deux

pres de moi…

English Translation
Edit
By the window of your Fiat 500
You looked at me and I saw you
Your taste seemed perfect

We understood each other right away
More than one rendez-vous at night
Sometimes we hear each other in the rain
And everything, was a miracle

The music!
Our eyes in a gaze
Our romantic stories
That we both start

close to me…

Song Connections/Remixes
Edit
A longer, house version of MOBO★MOGA by Toshiya Arai appears in TOMOSUKE's album, marble.

It was removed on the marble -Re Edition- album, where it was replaced by おもちゃばこのロンド ~ぬくもりの記憶.
MOBO★MOGA's original title was Mobo★Moga.
Along with the other BEMANI songs crossed over to pop'n music 8, MOBO★MOGA shows ♪♪♪♪♪ as the artist. This never changed.
MOBO★MOGA's title means "Modern Boy Modern Girl", hence "Mobo Moga".
MOBO★MOGA was supposed to appear on the cancelled game Karaoke Revolution BEMANI Series Selection.
Music Comment
Edit
That popular Dance Maniax song appears in pop'n!
Difficulty & Notecounts
Edit
Game
Standard
Battle
5
N
H
EX
N
H
Notecounts
174
339
511
-
174
332
Pop'n Music 8
9
16
25
-
8
16
Pop'n Music 9
↓6
16
↑26
-
8
16
Pop'n Music 10→PARTY♪
6
↑18
↑27
-
8
16
Pop'n Music 8 CS
6
16
26
-
8
16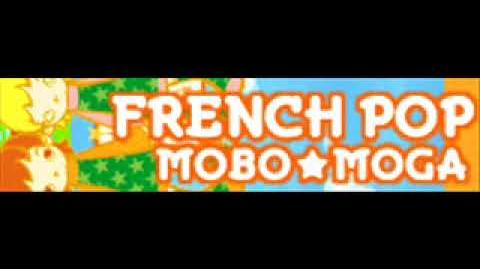 Ad blocker interference detected!
Wikia is a free-to-use site that makes money from advertising. We have a modified experience for viewers using ad blockers

Wikia is not accessible if you've made further modifications. Remove the custom ad blocker rule(s) and the page will load as expected.