Online Love Pop
恋のミラクル☆
るるるSYSTEM
Romaji of Song
Koi No Miracle☆
English Translation
Miracle of Love☆
Nihongo of Genre
オンラインラブポップ
Romaji of Artist
RuRuRuSYSTEM
Vocal
e-co
Lyrics
Misaki Arima
Other Instruments
Seiya-Murai
BPM
175
Status
Default
Length
1:56
Character
MIRAI YUMENO
First Appearance
pop'n music 15 ADVENTURE
Other Appearance(s)
pop'n music portable
ねぇ出逢いって不思議よね
いつも突然やってきては
乙女心刺激されちゃう
恋のミラクル☆ズキュン!バキュン!
友達に話したら「信じられない!」
っていわれそうね
でもね たぶん最先端恋愛スタイル

学校が終わったらすぐログイン
(おかえり。今日はどうしようか)
インターネットワールド貴方とね
(行こう!新たなダンジョン!)
私まだ頼りない魔法使い
(大丈夫、守るから)
どこまでも一緒に行くからね☆
(まかせておいて!)

ドキドキしてることきっと貴方は気づいてる
訊いたり出来ないけど
ネットに乗せて伝えたいこの想い受け止めて
願ってる

強くて優しい愛しの剣士様
どんな声しているの?聞いてみたいな

絶対運命ね☆私の王子様
恋してもいいですか?って言いたいな

Nee deaitte fushigi yo ne
Itsumo totsuzen yattekite wa
Otome go shigeki sa re chau
Koi no mirakuru☆ zukyun! Bakyun!
Tomodachi ni hanashitara "shinji rarenai!"
Itte iwa re-sou ne
Demo ne tabun saisentan ren'ai STYLE

Gakkou ga owattara sugu roguin
(Okaeri. Kyou wa dou shiyou ka)
INTERNENT WORLD anata to ne
(Ikou! Aratana danjon!)
Watashi mada tayorinai mahōtsukai
(Daijoubu, mamorukara)
Doko made mo issho ni ikukara ne☆
(Makasete oite!)

DOKI DOKI shi teru koto kitto anata wa kizui teru
Kii tari dekinaikedo
NET ni nosete tsutaetai kono omoi uketomete
Nega~tsu teru

Tsuyokute yasashii itoshi no kenshi-sama
Don'na koe shite iru no? Kiite mitai na

Zettai unmei ne☆ watashi no ōji-sama
Koishite mo iidesu ka? Itte iitai na

English Translation
Edit
Hey, our encounter is a mystery.
It comes always suddenly. 
And a girl's heart is aroused.
Miracle of Love☆ Zukyun! Bakyun!
If I tell to my friend, 
I will be said "i can't believe it". 
But, it is maybe cutting the edge of love.

When school ends, I login at once.
(Welcome back. What shall you do today?).
You and I will save the Internet
(Let's go! To new dungeon!)
I am still a lying thieving witch don't you know that?
(I still will always defend you)
I can go anywhere with you, just by your side☆ 
(Just leave it all to me) 

I bet you can not, then I noticed my heart's throbbing
I can not ask
That I have taken a ride on the Internet to convey this feeling
I hope

Strong but gentle swordsman
What's that voice? I like to hear it

This is our absolute destiny ☆ my prince
Can I love you? What are you saying?

Song Connections/Remixes
Edit
恋のミラクル☆ is likely to be the sequel of オトメルンバ♪.
This is shortly the final song composed by RuRuRuSYSTEM.
恋のミラクル☆ is the only original Nijikko song not to be in a course in Expert Mode.
Difficulty & Notecounts
Edit
Game
Standard
Battle
PSP-Exclusive
5
N
H
EX
N
H
5H
7
7H
Notecounts
297
428
631
900
425
518
297
?
?
ADVENTURE→THE MOVIE
14
18
26
35
21
25
-
-
-
Sengoku Retsuden→fantasia
14
18
26
↓33
21
25
-
-
-
Sunny Park→Present
-
24
32
39
21
25
-
-
-
Pop'n Music portable
※8
18
26
35
21
-
14
16
22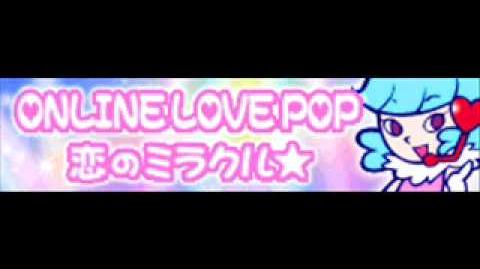 Ad blocker interference detected!
Wikia is a free-to-use site that makes money from advertising. We have a modified experience for viewers using ad blockers

Wikia is not accessible if you've made further modifications. Remove the custom ad blocker rule(s) and the page will load as expected.