Tokimeki Bossa

グルーヴあんちゃんとヨコリィー
Romaji of Song
Itsuka oujisama ga!
English Translation
Someday my prince will come!
Nihongo of Genre
ときめきボッサ
Romaji of Artist
Groove Unchant and Yokorii
Vocal
Yokorii
Lyrics
Groove Unchant
Other Instruments
Groove Unchant (Composition & Arrangement)
BPM
99
Status
Default
Length
1:44
Character
CREAMY
First Appearance
pop'n music 14 FEVER!
Other Appearance(s)
None.
ララララ ララララ
ララララ ララララ

今朝とても素敵な夢をみたの
それはわたしのステキな王子さまが
目の前にあらわれる夢

きっとみんなは
わたしを相手になんてしないのかも
でも、わたしは信じてる
まるで本当のようなそんな夢

Lalalala lalalala
Lalalala lalalala

Kesa totemo sutekina yume wo mita no
Sore wa watashi no sutekina ouji-sama ga
Me no mae ni arawareru yume

Kitto minna wa
Watashi wo aite ni nante shinai no kamo
Demo, watashi wa shinji teru
Marude hontou no youna sonna yume

English Translation
Edit
Lalalala lalalala
Lalalala lalalala

I had a wonderful dream this morning
It was my lovely prince
Appearing before my eyes like a dream

Surely everyone
Might go against me
But, I believe it
Such dreams are like a reality

Song Connections/Remixes
Edit
An "answer song", titled 2人のボサノバ, appears on Groove Unchant's Jant album.
いつか王子さまがぁ! marks Groove Unchant's debut in the pop'n music series.
Difficulty & Notecounts
Edit
Game
Standard
Battle
5
N
H
EX
N
H
Notecounts
177
335
389
480
184
335
pop'n music 14 FEVER!
6
14
21
27
5
10
pop'n music 15 ADVENTURE→17 THE MOVIE
6
14
21
↓25
5
10
pop'n music 18 せんごく列伝→20 fantasia
6
14
21
↓23
5
10
pop'n music Sunny Park→Present
-
20
27
29
5
10
pop'n music 9 CS
6
14
21
25
5
10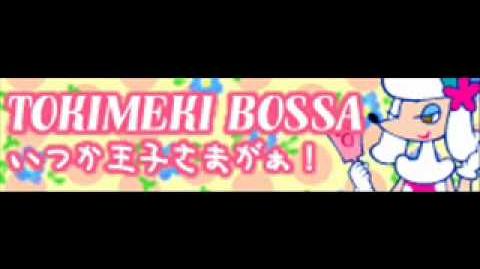 Ad blocker interference detected!
Wikia is a free-to-use site that makes money from advertising. We have a modified experience for viewers using ad blockers

Wikia is not accessible if you've made further modifications. Remove the custom ad blocker rule(s) and the page will load as expected.