Crimm Tales
いきもの失格
あさきのくりむ童話
Romaji of Song
Ikimono shikakku
English Translation
Elimination of living creatures
Nihongo of Genre
くりむ童話
Romaji of Artist
Asaki no Crimm Douwa
Vocal
crimm (Vocals), Asaki, Shikkaku Boys (Chorus)
Lyrics
Asaki
Other Instruments
Asaki (Composition & Arrangement)
BPM
113
Status
Default
Length
1:41
Character
にんじん
First Appearance
pop'n music 20 fantasia
Other Appearance(s)
GITADORA, pop'n rhythmin ポップンファンタジアパック1
のぼりざかのとちゅう
くだりざかのとちゅう

ふむむー

しんでれら
照れ屋さん

かけあしのとちゅう
たちどまってまだとちゅう

ふむふむー

おうじさま
くねくね上手

ふーん

これ みてみて
ほら もぞもぞ
ここ ころころ

こ! 

こ~

こ~お~

ここ!

ギブみーチョッカれーつ!

行く手 かがしの道
「きょうも迷子の凱旋ソング」

そうさ みんなぼっち
しんじるものはすくわれない

ホゲー! (訳: PEACE!)

「みらいがべいべー!呼んでるわ」
「まぶしいぜ サンフラワー! 

うしろむけひだりならえ

にんげんやめました

Romaji and English Translation are found by Tumblr user abyssalnode.
nobori zaka no tochuu
kudari zaka no tochuu

fumumuu

Shinderera
tereyasan

kakeashi no tochuu
tachidomatte mada tochuu

fumufumuu

oujisama
kunekune jouzu

fuun

kore mitemite
hora mozomozo
koko korokoro

ko!

ko~

ko~o~

koko!

Gibu mi— chokare—tsu!

yuku te kagashi no michi
"kyou mo maigo no gaisen songu"

sou sa minna bocchi
shinjiru mono wa sukuwarenai

HOGEE! (wake: PEACE!)

"mirai ga beibee! yonderu wa"
"mabushii ze sanfurawaa!"

ushiro muke hidari narae

ningen yamemashita

English Translation
Edit
On the way uphill
On the way downhill

Fuhuhuu

Cinderella
A shy person

On the way, hurrying
Coming to a stop in the middle

fuhufuhuu

The prince
is so skilled at meandering

fuun

Hey, look, look
Look, squirming
Here, something rolling

He!

re~

He~re~

Here!

Give me chocolate!

One's path, a path of scarecrows
"Also today, The Song of the Lost Child's Triumphant Return"

That's right everyone
Those who believe cannot be saved

HOGEE! (meaning: PEACE!)

"'Baby!' the future calls"
"Shining sunflower!"

Turn back and follow your left

Humanity is no more

Song Connections/Remixes
Edit
A sequel to いきもの失格, titled 去る金合戦, can be found in GITADORA.
Etymology
Edit
crimm TALES is a parodic reference of the popular Grimm Tales. Cinderella is mentioned in one line of the lyrics.
いきもの失格 marks the first time when crimm is featured as a vocalist on an Asaki song, and her first song not composed/arranged by TOMOSUKE.

いきもの失格 also marks crimm's first Konami original song she didn't write the lyrics for herself.

いきもの失格 was added to GITADORA on December 25th, 2013, as part of the Nettou! BEMANI Stadium (

熱闘!BEMANIスタジアム

?

) event.
いきもの失格's EASY, Standard and Battle NORMAL, and Battle HYPER charts have their notecounts tied.
Music Comment
Edit
One is taken when absorbed!!
Difficulty & Notecounts
Edit
pop'n music
Edit
Game
Standard
Battle
5
N
H
EX
N
H
Notecounts
177
268
647
870
177
268
Pop'n Music 20 fantasia
13
17
30
36
14
19
Sunny Park→Present
※9
23
36
42
14
19
※ The notecount of this chart is different from the old 5-Buttons chart (total notes: 161).
pop'n rhythmin
Edit
Game
Difficulties
N
H
EX
Notecounts
109
193
309
pop'n rhythmin
2
4
8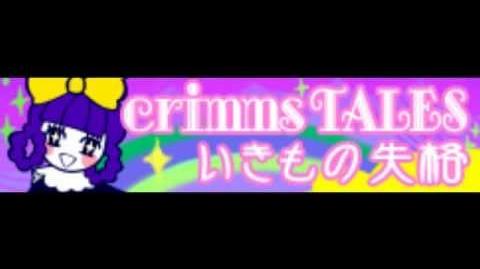 Ad blocker interference detected!
Wikia is a free-to-use site that makes money from advertising. We have a modified experience for viewers using ad blockers

Wikia is not accessible if you've made further modifications. Remove the custom ad blocker rule(s) and the page will load as expected.