Personality
Ice is a guitarist, which he is interested to hang out with Timer and Shollkee. Ice is a popular male at which he is shy about being himself. When being taunted or being seized by failure, Ice sometimes loses his temper, as he breaks his own KEYTAR, but either Timer or Shollkee will soothe him down.
Appearance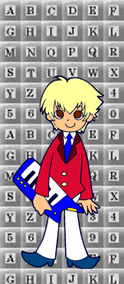 Ice appears as  a peach-skinned guitarist, with brown eyes and blonde, short hair. He wears a red suit jacket, along with the blue tie, matches his pianno-like guitar and his shoes. He has white pants that goes to his outfit.
Future
Ice's attire consists of the same jacket and the same pants as the player mode, but the jacket is darker and contains brown shoes. He has the same piano-like guitar.
His original color palette is shown in Idol Wave, in Utacchi and Pop'n Music 19 TUNE STREET.
Trivia
Gallery
Animations
Profile
Screenshots
Template:Rhythm Animaniacs Character Box