Electric Manoush Swing
デッドボヲルdeホームラン
猫叉Masterβ2
Romaji of Song
Deadball de Home Run
English Translation
-
Nihongo of Genre
エレクトリックマヌーシュスウィング
Romaji of Artist
Nekomata Master β2
Vocal
Nekomatii (Chorus), Yu-Ko (Announcer)
Lyrics
-
Other Instruments
Naoyuki Sato (Other Instruments), 96 (Guitar)
BPM
145
Status
Event Song
Length
1:51
Character
ロミ夫 (Mood Techno 2P)
First Appearance
beatmania IIDX 21 SPADA, DanceDanceRevolution (2013), GITADORA, jubeat saucer, ミライダガッキ FutureTomTom Ver.2, pop'n music Sunny Park, REFLEC BEAT colette -All Seasons-, SOUND VOLTEX II -infinite infection-
Other Appearance(s)
jubeat plus/jubeat plus (Android) BEMANIスタジアム pack 2


pop'n rhythmin BEMANIスタジアム2
Various speeches.
Song Connections/Remixes
Edit
デッドボヲルdeホームラン is slightly remixed in GITADORA, with more emphasis on guitars.
デッドボヲルdeホームラン shares similarities with Funny shuffle.
The string sound from the very end of CALL can be heard at the end of デッドボヲルdeホームラン.
デッドボヲルdeホームラン marks the first usage of Naoyuki Sato's 猫叉Masterβ2 alias outside of pop'n music.

It also marks Naoyuki Sato's first original song in the SOUND VOLTEX and ミライダガッキ FutureTomTom series.

It also marks his debut in the SOUND VOLTEX series.

When デッドボヲルdeホームラン is played on beatmania IIDX, the arcade LED ticker displays "I LIKE DEADBALL".
Difficulty & Notecounts
Edit
pop'n music
Edit
Game
Standard
Battle
E
N
H
EX
N
H
Notecounts
147
333
654
1026
319
613
Sunny Park→Present
9
21
37
45
19
31
pop'n rhythmin
Edit
Game
Difficulties
N
H
EX
Notecounts
?
?
520
pop'n rhythmin
3
6
8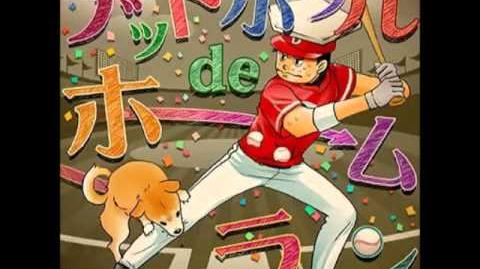 Ad blocker interference detected!
Wikia is a free-to-use site that makes money from advertising. We have a modified experience for viewers using ad blockers

Wikia is not accessible if you've made further modifications. Remove the custom ad blocker rule(s) and the page will load as expected.